When we talk to bakers and bakery owners, one of the top concerns they have is about custom cake ordering. And we understand why! For many bakeries, custom cakes help set them apart from the competition and can be very lucrative. With so many combinations of available flavors, fillings, icing, and decorations, custom cakes can get pretty complicated. Often, mistakes are made that result in upset paying customers. Or perhaps even worse, customers aren't given the correct pricing, and your bakery ends up losing money.
When everything goes according to plan, your customer gets a beautiful, delicious cake, and you might just get a loyal customer for years to come.
Efficient Ordering
The most essential element of managing bakery orders is making sure they are accurate. You need a standardized way of recording orders to know exactly what to make and when to make it. This is especially true for custom cakes or other baked goods with upcharges for larger sizes and specialty flavors.
No matter how hard they try, front-of-house staff taking orders may not remember all the little details that go into a custom cake order. Make sure your front-of-house team is familiar with your custom cake options and combinations. Ideally, all the information they need would be in a software that automatically upcharges for the correct items.
Cake Contracts
In an ideal world, a customer orders a highly customized cake, and you bake the custom cake. They pay for it on time with no changes midway through.
But alas! We do not live in a perfect world, and you can't simply rely on everything running smoothly. A cake contract ensures that everyone involved understands expectations, establishes clear guidelines for payment and delivery, and helps keep your bakery from getting left high and dry with last-minute cancelations. Most likely, you will use these contracts for weddings, but you may think about creating one for other costly cakes.
There are four basic sections of a cake contract:
Event Details
Order Specifics
Pricing and Payment
Terms and Conditions
1. Event Details
In this first section, you'll want to include as much information about your customer and their event. Try to be as specific as possible. Don't just write down the venue's address; record the location of the room the cake will be in. Be sure to include:
Contact information for more than just the customer (think venue coordinator, event coordinator, emergency contact, etc. )
Venue information such as location, date, and time
Number of guests
2. Order Specifics
Next, you should include the specifications of the custom cake, such as:
Size
Number of tiers
Cake flavors
Frosting flavors
Fillings
Decorations
Colors
Once again, be specific as possible so that if there is ever any dispute, you can refer to the contract.
3. Pricing and Payment
This section gets down to the nitty-gritty of the numbers. It's best to have an itemized cost of the custom cake. This outline will not only help the customer see where their money is going, but it could spark a conversation about what else needs to be included, such as rentals like cake stands or props.
After you outline all the items, detail the payment schedule. How much of a deposit is required? If the order is canceled, which portions of the transaction are refundable or non-refundable?
4. Terms and Conditions
Cover your bases in this final section. Explain what you are not liable for, such as damage to the cake not caused by your bakery, property damage, or allergic reactions.
This is also the section where you should outline "what if" scenarios. What happens in the event of date changes, design changes, or they simply don't like your finished product. This is where your refund policy comes in handy.
Cake Consultations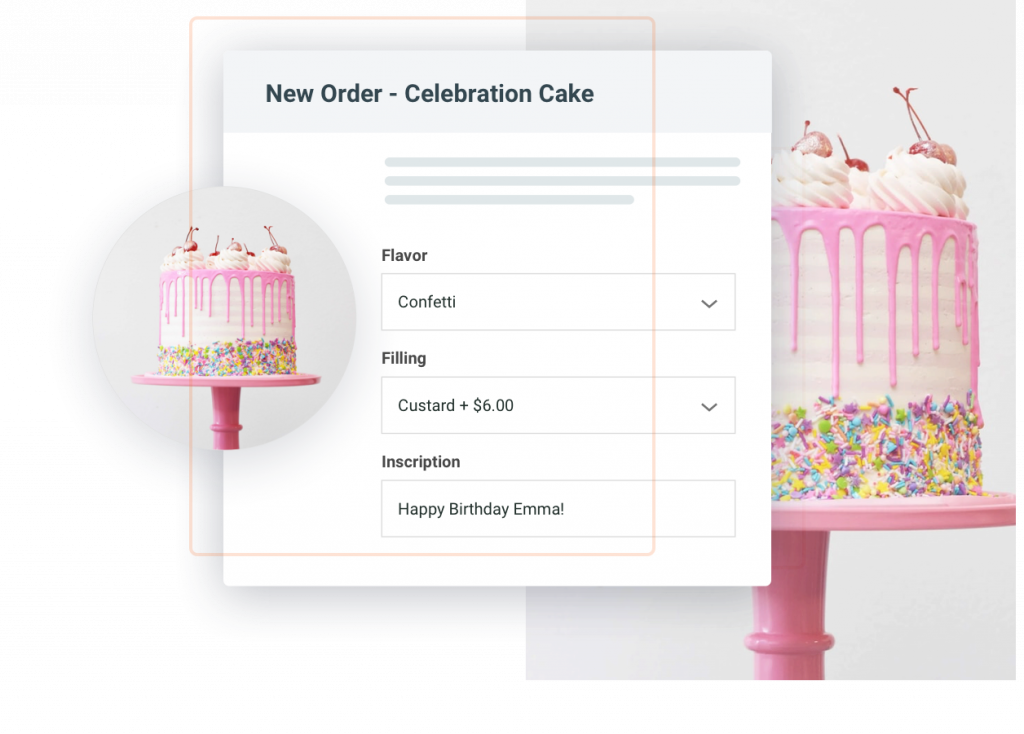 Custom cakes can potentially be a significant investment for your customers. Often you conduct a consultation for wedding cakes, but that's not always the case. Any cake that will have a lot of details surrounding it would benefit from a consultation. However, the key is not to undervalue your bakery's time and effort, which is why many bakery managers charge for a consultation or tasting.
There is some debate among bakers whether a tasting or consultation should come first. What you don't want is to have endless tastings that don't result in business. What it comes down to is narrowing your customer base by collecting the most amount of information (and perhaps charging them for your time). Clients will come to you with varying degrees of expectations and knowledge, and every bakery has its favorite way of conducting the process.
Some bakeries find that an online submission form is very helpful to gather initial information before they ever meet the prospective customer in person. These forms can offer details that will shape your consultation, tasting, and can save time.
If you choose to provide a custom cake online submission form ahead of consultation or tasting, make sure you ask for basic information like wedding theme or style, rough budget, date, number of guests, etc.; as well as cake preferences like flavors, colors, shapes, and decorations.
Be sure to give the submitter the option to say, "I don't know." Maybe the customer has a picture of the exact cake they want to recreate and knows everything they want, but a more likely scenario is that a customer knows some but not all of what they want. They want to consult with you because you have the expertise.
Whether you're using an online form as a replacement for your consultation or in addition to it, be prepared to ask and get asked more questions. If you've gathered the basic information with an online form, it's time to get into the nitty-gritty:
What temperature will the venue be kept at?
How much time will you be given to set up the cake?
Will the top cake be frozen for the anniversary?
Do they want all the servings on the cake or some sheet cake in the kitchen?
For the most part, your cake consultations will be with a bride and groom for their wedding cake. Ask all your questions now when you have the bride's full attention… you may not have that chance again.
While each baker conducts their consultations a little differently, it can be helpful no matter what to provide a printed cake serving charts and popular tier combinations. With so many great options, it can be overwhelming for your customers. Make it easy for those who have never ordered a custom cake from your bakery before.
Tastings
The key to tastings is to not undervalue your bakery's time and effort, which is why many bakery managers charge for a consultation or tasting. This will help weed out people who aren't committed to seeing an order through. One way to take the sting out of charging your custom cake taster is by offering to apply the non-refundable tasting fee to their custom cake order.
Another tip for tastings is to bake cupcakes instead of offering a slice of a whole cake. With this approach, you can still showcase your flavors and save on resources. Some bakers allow the customer to take home a sample of the cake or cupcake. Many people are more comfortable deciding after they've had time to think about it or talk it over with someone other than the baker.
Whether custom cakes are your bakery's bread and butter or just an occasional snack, a solid consultation reassures your customer that you're a professional and their cake is safe hands.
OrderNova can help you keep on track so you can continue to deliver beautiful and memorable custom cakes while maximizing your profits.
Our bakery order management platform offers complete mission control for your bakery with features like e-commerce, recurring orders, custom cakes, flexible pricing, detailed reporting, and more.
Try it out for yourself with a 14-day free trial, no credit card required!