These days, your bakery simply has to have an online store. Not all of your customers can visit or call your store to place an order during your hours of operation. And with the rise of self-service options, online ordering has become the way of life for people who can't or even don't want to come into your bakery to order a scrumptious baked good.
But the accuracy and quality of your website plays an important role in its success. We've all visited a website and immediately left when we saw what a mess it was. As you're looking to set up a quality bakery e-commerce website, make sure it checks the right boxes.
Here are some of the features you want to make sure your online store has.
1. Easy Set-Up
You probably have mastered many baking techniques to create your one-of-a-kind baked creations, but one skill you may be lacking is website development. Don't worry, most of us are lacking it. You shouldn't need experience in web design to create an online store for your bakery.
Look for an e-commerce solution that makes it easy to get your products up on the site with the right price and customization options. That's easier said than done with many online platforms. You'll need control of the categories, variations, locations, and delivery/pickup options.
You'll also want to look for an online store solution that connects with your order management system. That way any orders that customers place connect instantly with all your other orders. Gone are the days of printing out online orders and adding them to the messy pile with all the others.
2. Custom Cake Ordering Features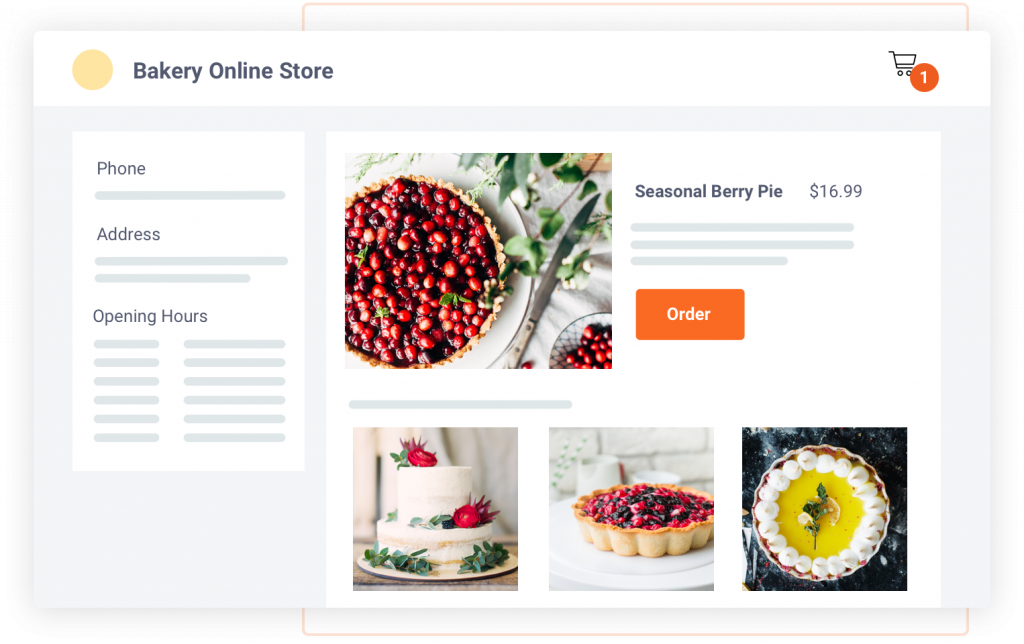 Keeping custom cake orders straight can be a challenge if all the details aren't in place. Your online customers should be able to order a custom cake by selecting the various available flavors, fillings, and decorations.
Make sure your online store can give your customers the exact information they need to pick out a beautiful cake and you can ensure that all the prices and combinations are correct.
When set up correctly, an e-commerce bakery website can remove the burden of documenting and entering a custom cake order. No more waiting for a customer to choose flavors while holding up the line behind them. They can take all the time in the world to order their cake to the exact specifications.
Definitely make sure that your online customers can see any needed upcharges for size, fillings, etc. You wouldn't want them to be surprised and frustrated with the cost of the cake at the end of the ordering process. That's a great way to get them to abandon their cart.
3. User Accounts
One super helpful bakery e-commerce feature that isn't always included in e-commerce options is user accounts. When logged in, customers' orders are recorded in their account, which can be incredibly useful when it comes to reordering.
If the customer is ordering themselves then they can see exactly what flavor birthday cake they ordered for their son last year. Or which kind of muffins they brought to last month's networking event. They get answers quickly and your bakery gets their order.
Bakery e-commerce user accounts can be useful in-store for the same reason. So when a customer wants to reorder something, your front-of-house staff know just the right order details.
4. Promo Codes

While your bakery can use specials to drive traffic to your bakery, promo codes can also be really effective for your online store. Put them out on social media, include them in emails, etc. Just be sure you can create an attributed expiration date. Otherwise people could use them at any time!
Be on the lookout for a bakery e-commerce option that allows you to set start and stop dates and control the discount type.
Bakery order management has come a long way from sprawling spreadsheets and scribbled notes. Keeping your orders straight across walk-in, phone orders, and online orders with OrderNova.
Our bakery order management platform offers everything you need to keep track of your orders, sell online, plan your bakery's production and make your customers happy.
Try it out for yourself with a 14-day free trial, no credit card required!