What's one of the best ways to promote your bakery? Taking and showing off professional-quality photos of your baked goods! While it's great if you can afford to hire a professional, did you know you can take jaw-dropping photos with your phone or a basic camera?
Just like the art of baking, learning the tip and tricks to photography can take some time, inspiration, and know-how. Luckily, we're here to speed up the process for you. Keep reading to learn the easy and effective ways you can take great photos that will go a long way in promoting your bakery.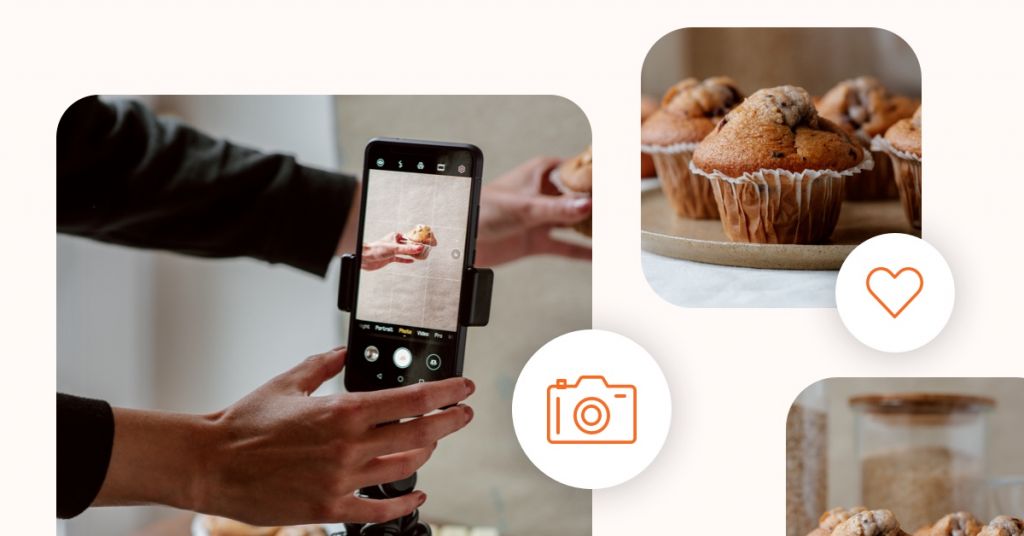 Lighting is Everything!
Good lighting makes for good photography—it's one of the most important elements of taking high-quality pictures. The ideal lighting for food photography is natural daylight, as trying to photograph in artificial lights can cast a colored hue that may make your creations look a different color than they actually are.
The only thing to be cautious about when photographing in natural lighting is harsh sunlight obscuring your photos. A simple way to deal with sunlight that's too bright is to place a semi-transparent white curtain across your window. This will help your picture go from looking washed out to picturesque in a matter of seconds.
Pro Lighting Tip: Golden Hour isn't just great for selfies—it's great at making your baked goods really pop! Try taking product pictures in natural lighting either the hour before sunset or the hour after sunrise. This is the best quality of natural light you can ask for photography-wise.
Get Those Angles
Another important element of skilled photography is the angle at which you take the picture, or the degree at which the camera points towards the subject. This is a subtle tool that can make a huge impact in the quality of your pictures. There are three main angles for food photography:
Three-quarters view: A representation of a head or figure posed about halfway between front and profile views.
Overhead: Also called a bird's eye view, this is when the camera is placed directly above the baked goods.
Eye-level: Getting on the level of your baked goods and photographing them straight-on.
Your choice of angle all depends on what you're photographing. If you have a cake with ornate decorations and messaging laying on top, you'll want to take a photo of it from a bird's eye angle so you can capture those fine details.
Once you get a feel for the best angle for any given item, you may be tempted to use it all the time, and we get it—but try to keep it fresh! It's never a bad idea to capture various products from a range of different angles and poses. You never know where your creativity will take you!
Switching up your angles also helps with your social platforms. When people check out your website or social media, you don't want all the pictures to look the exact same. Content can become dull if it's a bunch of pictures that look the exact same. Work those angles and make sure you highlight all your products.
The Importance of Composition
In photography, the composition is the placement or arrangement of different elements in the picture. If you're thinking, "I'm taking a picture of a single pie, how hard can it be to arrange one thing?"
A great way to create a more captivating photo is to include more than just the baked goods you want to show off. While it should still be the center of attention, you can add in other elements to help make the picture more eye-catching.
Next time you go to take a picture of that cherry pie you're famous for, maybe you arrange some of the ingredients you used to create it. Not only can this create a dynamic composition, but it can also help create a visual recipe for others.
Try The Rule of Thirds! This composition guideline places the subject in the left or right third of an image, leaving the other two-thirds more open for compelling and well-composed shots.
A Photo Tells A Thousand Words
A bagel isn't just a bagel; to many of your bakery customs, it's the start to a productive day. You can highlight this sentiment in your photography by adding a cup of coffee and laptop to the composition. This type of imagery is a relatable representation of many of your customers' morning routines. You can tap into this commonality through photography to draw people in and allow them to attribute their own connection.
Additionally, never be afraid to add a human element to your photos. This is a technique that can be used to tell a story and connect with the viewer. Snap a few photos of the baking process as well. Give yourself and your staff some recognition and remind your customers that hardworking people are behind every scrumptious treat.
OrderNova Makes It Easier
With these suggestions, you can take your bakery photography from drab to fab. High-quality photos of your baked goods will grab existing and potential customers' attention and inspire them to order from your bakery.
With more traffic, you may need help streamlining your ordering. Get your first 100 orders free.